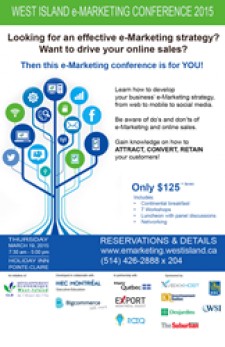 The West Island e-Marketing Conference 2015, hosted by Développement Économique West-Island - CLD with panel sponsor VEXXHOST, will feature workshops and panel discussions aimed at helping SMEs maintain an effective presence on the Web and grow visibility and online sales. It will take place on March 19 in Pointe-Claire, just outside Montreal.
Online, March 9, 2015 (Newswire.com) - Développement Économique West-Island - CLD (DEWI-CLD) and VEXXHOST urge SMEs who want to deepen their knowledge of Internet marketing and online sales to attend the upcoming daylong West Island e-Marketing Conference 2015. The event will be held on Thursday, March 19, from 7:30 a.m. to 5 p.m. at the Holiday Inn in Pointe-Claire, a suburb of Montreal. The conference will be a unique learning and networking event where each participant comes away with the core knowledge necessary to establish or improve an e‐marketing strategy and online presence.
"Looking for an effective e-Marketing strategy? Want to drive your online sales? Then this conference is for YOU!" says Mr. Jean Archambault, Industrial Commissioner for the event sponsor DEWI-CLD, an organization that offers technical and financial resources to the many entrepreneurs and diverse businesses located in the West Island. "You'll learn to create a consistent, coherent e-Marketing strategy that will attract, convert, and retain customers from multiple online contact points."
The event is only $125 and includes a continental breakfast, seven workshops, and a luncheon with panel discussions. Jacques Nantel, a professor at HEC Montréal and author or co-author of five marketing textbooks, will deliver the keynote address on the future of e-Commerce.
Workshops will be run by Alexandre Tellier and Valérie Gohier, who are both lecturers at HEC Montréal and Research Director and Consulting Director, respectively, of imarklab, and by Matt Irving, Channel Sales Consultant at Bigcommerce. Topics include:
1. e-Marketing strategy
2. Attracting visitors - search engines
3. Attracting visitors - publicity and social media
4. Converting visitors into clients - website and mobile
5. Converting visitors into clients - web analytics
6. Managing client relationships - social media
7. Commerce first strategies and winning online
The lunchtime panel discussion, "Do's and Don'ts of e-Marketing," will be moderated by Jacques Nantel with four panelists from different fields: Louis Desrosiers, President of Urbann; Gregory Gineys, President of Wingstream Media; Rob Kellock, President of DEK Canada; and Chris Murray, President of WSI Montreal.
Participants will be entered to win free registration to HEC Montréal's intensive program, "Marketing électronique : développer une stratégie Web intégrée qui va du mobile aux médias sociaux," and an iPad Mini 16GB, with Wi-Fi , generously provided by VEXXHOST.
"Having an effective online presence is critical if you want your business to thrive today and tomorrow," says Mohammed Naser, CEO of VEXXHOST, a leading cloud hosting provider and panel sponsor of the conference. "Join us for this eye-opening event that will help you develop a winning online strategy for your business."
To register for the West Island e-Marketing Conference 2015, visit www.emarketing.westisland.ca/index.php/register.
About Développement Économique West-Island - CLD
Développement Économique West-Island - CLD (DEWI-CLD) is a small, but dedicated team, working as a veritable gateway to a vast network of partners, offering technical and financial resources to the many diverse businesses in its territory. Through the hands-on approach of a team of experienced counselors and industrial commissioners, its mandate is to provide in-depth support to business owners and decision-makers, pointing the way to the tools, programs and resources that can make a crucial difference in moving businesses forward toward success, and this, at any point in the life of the business. Learn more at cldwi.com/en/.
About VEXXHOST
VEXXHOST, Inc., was founded in 2006 to provide online hosting services. Since then, the company has grown to become one of the largest technology leaders in the hosting industry, offering the latest cloud-based services to thousands of customers. Customers range from small businesses to governments, in more than 150 different countries worldwide. Learn more at vexxhost.com/.
Source URL: http://prweb.com/releases/2015/03/prweb12571803.htm
Share: